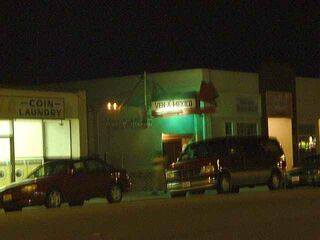 A local Mexican dive bar that apparently offers poker on Fridays and Saturdays (they certainly have a current poker license with the state). However, on Fri and Sat nights they become a rowdy Mexican hangout with loud music and dancing and they charge a cover charge to enter: $5 for women, $10 for men (whoops, everything's in Spanish there: I mean $5 para Damas, $10 para Caballeros). I chose not to pay a cover charge just to find out what the poker is like, so I haven't been inside.
Unknown. Probably spread-limit, which seems most popular in the Mexican immigrant community for some reason.
Rake: unknown.
Game Character: Unknown, but almost certainly conducted in Spanish, as are the games in most of the agricultural communities in the Central Valley.
Wait Time: Unknown.
Shuffling: Unknown, but probably hand-shuffled
Posting: Unknown
Tournaments
Edit
unlikely
unlikely
Atmosphere
Edit
A noisy rowdy dive bar that looks, frankly, kinda scary at night. They've got a uniformed security guard posted at the door to make sure no one gets in without paying the cover charge.
Tables and Chairs: Unknown.
Neighborhood: On a rundown section of Front Street south of the main downtown. Soledad is a teeny tiny farming community and is barely large enough to have a sit-down restaurant, but has fast food because they're right on US 101.
Parking: Park on the spacious streets. No parking lot that I saw.
Smoking: Not allowed inside the building, due to California law.
Service and Comps
Edit
Well, they are in a bar...
Links and Notes
Edit
Nearest competitor is Cap's Saloon in Salinas, 20 miles north.
Visited by MarkT in Aug 2006.
Ad blocker interference detected!
Wikia is a free-to-use site that makes money from advertising. We have a modified experience for viewers using ad blockers

Wikia is not accessible if you've made further modifications. Remove the custom ad blocker rule(s) and the page will load as expected.