Location
Edit
1045 W Rosecrans Ave in Gardena, about fifteen minutes south of downtown LA on off the 110. A couple of blocks away from Hustler Casino.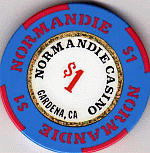 (Incomplete list)
Limit Hold'Em:
2/4, 3/6, 4/8, 4/8 kill,8/16 kill. Games as high as the 4/8 use a single blind.
No-Limit Hold'Em:
Usually one table. [more info needed]
Lowball:
Mid-limit. Probably the last regular lowball game in town.
As recently as the early 1980s, Gardena was the only city in Los Angeles County to have legalized gaming, with patrons limited to five-card draw and lowball. Normandie was one of the original Gardena casinos, tracing its roots back to the 1940s. Unfortunately, in recent years, Normandie has lost much of its poker-playing clientele to nearby Hustler Casino. The California games section of Normandie remains busy.
Ad blocker interference detected!
Wikia is a free-to-use site that makes money from advertising. We have a modified experience for viewers using ad blockers

Wikia is not accessible if you've made further modifications. Remove the custom ad blocker rule(s) and the page will load as expected.