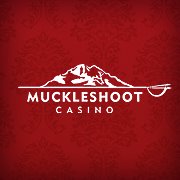 'The Muck' as it is affectionately known, is about 40 minutes south of Seattle in Auburn, WA.
This is a 24 hour room that only closes for about 5 hours each on Wednesday, Thursday, and Friday mornings (5:45am-10:00am).
There are 18 tables (soon to be expanding to 32 tables), and the Muck's room is pretty nice. There is smoking in the casino but not in the poker room itself. The ceilings are high and the ventilation system is good. The food is also decent, and is half-price when you're at the table.
Old claims
Edit
I'm really not sure anything in this article is up to date, but here's what was here:
Hold 'Em is the name of the game here. You'll find 3-6, 4-8 (with/without full kill), 6-12, 10-20 (with 1/2 kill), 20-40, 30-60, and 50-100 (with 100/200 over buttons). Also there is a 10-500 spread limit game occasionally with 5-10 blinds (500 max buy-in).
Stud is also played at the Muck. There is a 1-4 spread limit game, and a 1-4-8-8 Hi-Lo Stud game. I am told that Omaha hasn't been spread at the Muck in about a year (update 10/15/2006: Omaha Hi/Lo has been spread several times in the last year, but very rare).
In fact, O8 is now common and I've very rarely seen a LHE game above 4/8.
There are tourneys about 3 nights a week with buyins from $45-$150ish. Check the website for details.
The dealers are good and friendly (say hi to 'Funguy' (just listen for "1 seat open on the Main Game at table...") while you're there), and the floor is competent.
Though it is a little bit of a drive, this is my favorite place to play in the Seattle area.
External links
Edit
Ad blocker interference detected!
Wikia is a free-to-use site that makes money from advertising. We have a modified experience for viewers using ad blockers

Wikia is not accessible if you've made further modifications. Remove the custom ad blocker rule(s) and the page will load as expected.