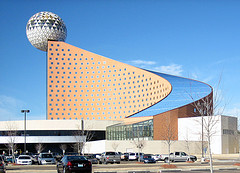 The Choctaw Indian
Pearl River Resort
includes the two adjoined casinos, the "Silver Star" and the "Golden Moon". In the Summer of 2006, Pearl River moved the poker room from the Silver Star to the Golden Moon casino, occupying space formerly used as a sports bar (the "Sports Ticker").
The Golden Moon poker room has a modern computerized reservation system, lots of televisions tuned to sports channels and a snack bar nearby. According to information provided by the Golden Moon, the following is their normal tournament schedule:
Mondays and Tuesdays: Beginning at 7 p.m., No Limit Texas Hold-em with Bounties. The buy-in is $35 and re-buys allowed during the first hour. Sign up begins at 4 p.m.
Fridays: Beginning at 2 p.m. No Limit Texas Hold-em Freeze out. The buyin is $35 with an $1,800 guaranteed prize pool. There is a 60 player max. Sign up begins at 12 noon.
Saturdays: At 2 p.m. No Limit Texas Hold-em. The buy-in is $100 with one $50 optional re-buy and a guaranteed $5,000 prize pool. Sign up begins at 10 a.m.
Sundays: Beginning at 1 p.m. No Limit Texas Hold-em. The buy-in is $115, with a $5,000 guaranteed prize pool based on 40 entries. Sign up begins at 10 a.m.
Pearl River Website: http://www.pearlriverresort.com/default.aspx
Ad blocker interference detected!
Wikia is a free-to-use site that makes money from advertising. We have a modified experience for viewers using ad blockers

Wikia is not accessible if you've made further modifications. Remove the custom ad blocker rule(s) and the page will load as expected.